I'm here with some quick tips and tricks to get you Party Ready!
And this one is all about The Morning After, with thanks to ESPA skincare.
I don't know about you, but as much fun as the party season is, my skin always suffers. After a big night out I am definitely not as careful about removing my makeup as I am about putting it on!
It's time for some TLC
So I have teamed up with ESPA to show you some great tips on making the morning after almost as enjoyable as the night before.
But first, coffee
It's not needed for these tips but if definitely helps after a late night of partying!
Bye, Bye Panda Eye!
No matter how well I (think I) remove my makeup the night before, I still wake up with panda eyes following a night out. So after washing my face, I go straight in with ESPA's Bio Active Eye Cleanser. It removes even my trusty super waterproof Beach Mascara from Eyeko, in an instant. No scrubbing required, which lets face it, is not the one when you're feeling a bit delicate. What I love most about this eye cleanser is that it doesn't leave an oily residue on your skin after use, so no need to remove with another product. In fact, it dries pretty quick and leaves my eye area feeling really smooth and cared for. Just what I need!
Pamper Time!
Now it's time for my favourite part. The Mask! ESPA's Clarifying Clay Mineral Mask is just what we need to help deep cleanse and clear excess oils and impurities. If you're feeling a bit extra, put some cucumber slices on your eyes and enjoy a well deserved nap (you've been up for a least an hour by now, right?) while it works it's magic. It feels so good on and smells incredible you will feel like you're in a spa.
Eye Power
When you've finally managed to peel yourself back off of the bed, remove the mask with some warm water. Then it's time to add back all the nourishment our skin is craving. My eyes always feel puffy and tired after a late night, and this Depuff and Smooth Eye Gel from ESPA is the perfect remedy. You only need the smallest amount to make them feel instantly refreshed and awake. It absorbs easily and leaves the delicate eye area feeling super nourished and smooth. Ah, that's better.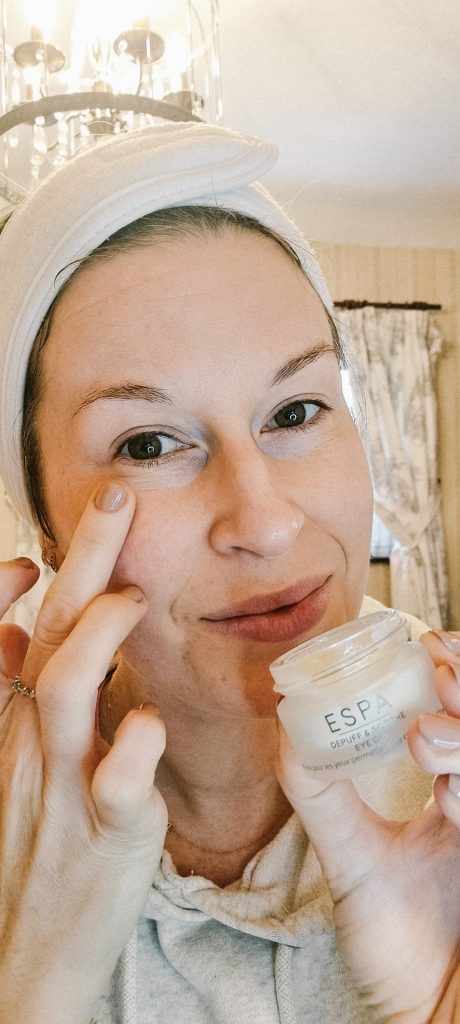 Soothe and Smooth
I love an oil treatment and this one is no exception. It's pretty special. The smell takes you straight to an expensive spa, it really feels like you're treating yourself. A few drops of ESPA Replenishing Treatment Oil, warmed up between your hands then pressed on to you skin, really brings your skin back to life. It's quickly absorbed and leaves the skin feeling supple and nourished instantly and there's no oily residue left behind. It's heavenly!
Back to Life
After these treatments (and the cheeky nap) your skin will feel clean, refreshed and beautifully nourished. Even if the rest of you is still far from that. But to make sure it gets a full hit of hydration, before you crawl back into bed I thoroughly recommend applying a hydrating mask like this Overnight Hydration Therapy mask. Simply rub it into your skin until it turns white, then leave it alone to work its magic while you return to the world of dreams. Waking up the next day with the softest skin imaginable.
All ready to start again!
All the products I have mentioned and linked in this post are both Cruelty Free and Vegan. To shop ESPA's extensive vegan list, see here.
Thank you to ESPA!
Eyeko have kindly given me a discount code to share with my readers. Use code ESPAM15 at espaskincare.com
More in the series…
Thank you!
Thank you for stopping by and as always, I'd love to hear your feedback in the comments.
Until next time…. N x
As always…
Some links in this article may contain affiliate links which could mean I earn a commission on anything you go on to purchase at no additional cost to yourself. This helps to support my small business and the time it has taken to write this post. So thank you!