On your wedding day let Nichola take the stress of looking your absolute best from you! Your makeup needs to look perfect and flawless up close and on camera, lasting not just a few hours but all day and night. To look at your most beautiful you need to feel comfortable and confident and have your make up applied to allow your natural beauty to shine through.
Passion, technique and experience along with the right products and tools are key to creating your perfect bridal look. With over 14 years of experience, Nichola will work with you to create the perfect look. On your big day take some time just to sit back, relax and be pampered knowing you will look truly beautiful before leaving for your ceremony.
On the day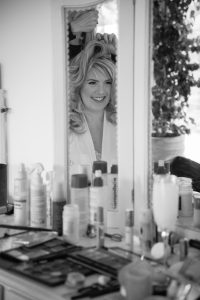 Nichola will arrive in plenty of time to set up and be ready to start the makeup at your chosen time. We suggest setting aside around 1 hour for each makeup which gives plenty of time so you can relax and won't feel rushed or stressed during the busy morning. Timings will all be decided and confirmed prior to the day, often coinciding with a hair stylist and photographer.
Airbrush or traditional bridal makeup includes everything you may need, including tattoo covering and false lash application, all of which can be discussed during the trial.
When you book with Nichola the day is booked as yours exclusively, she will leave only when your makeup looks perfect and when you decide you no longer need her. Nichola will be there for a final touch up of lipstick before you head off to the wedding ceremony or can disappear and get out of your way as soon as the makeup application is finished – it is entirely up to you.
Nichola ~ 'I have helped with a few last minute tan line issues and I also laced up a few bridal gowns in my time!'
SaveSave