What is airbrush makeup?
Airbrush makeup involves a super lightweight mist of foundation being applied to your skin by a professional, using an airbrush gun (not as scary as it sounds!).  Nichola will begin by using a small amount of light makeup designed specifically for use with the airbrush, in a gentle spray over your face and desired areas.  This ultra fine mist applies evenly to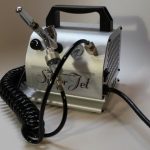 provide a natural yet flawless finish.  It sits perfectly on top of your skin and is not rubbed or pushed on to your skin as with traditional foundation application, which means it will not clog pores. Airbrush makeup can be applied in light coverage or built for full coverage.  It instantly sets on the application, so there are no concerns of it moving or transferring, meaning your beautiful wedding gown will remain the colour it was intended and your partner's shoulders won't receive a print of your face after the first dance!
This flawless, long-wearing and comfortable makeup make it a popular choice for many brides and whole bridal party!
Traditional makeup
Some brides prefer to stick with traditional foundation application and if this is what you feel most comfortable with, be confident that Nichola only uses high-end foundations that she has tried and tested and knows will provide the perfect coverage and longevity for your skin type.
.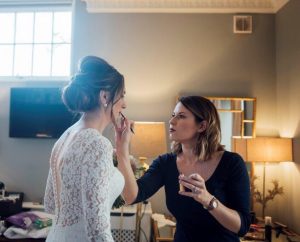 Nichola ~ 'No matter which makeup application you require, I am confident that you will feel truly beautiful on your special day.'