What is airbrush makeup?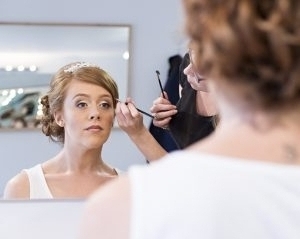 Airbrush makeup involves a super lightweight mist of foundation being applied to your skin using an airbrush gun (not as scary as it sounds!).  I use a small amount of makeup, mixed perfectly to match your complexion, designed specifically for use with the airbrush, in a gentle spray over your face and desired areas.  The ultra fine mist applies evenly to provide a natural yet flawless finish that feels like you are wearing nothing at all.
Airbrush makeup can be layered to go from barely there to full coverage, plus the air application sets your foundation quickly, meaning less chances of it moving or transferring. But the main benefit has to be how long the makeup lasts – it has superb staying power!
This flawless, long-wearing and comfortable makeup makes it a popular choice for many brides and whole bridal party.
Traditional makeup
Traditional foundations are the perfect option for those of you who prefer a dewy look or simply prefer the look and feel of traditional foundation.  Traditional foundations are great for blending cream products to build that perfect sculpt, or for that barely there, natural glowing skin look.
Whichever application you choose you can be confident that my high-end, tried and tested foundations will provide the perfect coverage and longevity for you and your skin type.
If you want to discuss these options further, just pop me an email or let me know during the booking process and we can chat about it during your trial.
.