Okay guys, we all know how tough this year has been, especially for small businesses. As a small business owner myself, trust me, I get it! But instead of dwelling on the negatives I thought I would channel my spare energy (there's quite a lot this year) into celebrating other local, small businesses. And so I have created the Small Business Christmas Gift Guide.
I've been scouring Facebook and Instagram to find some amazing small, local businesses that are creating some flipping amazing goodies that would make amazing Christmas gifts. Did I mention they're amazing?
Lets cut to the chase and jump straight in to celebrating small businesses.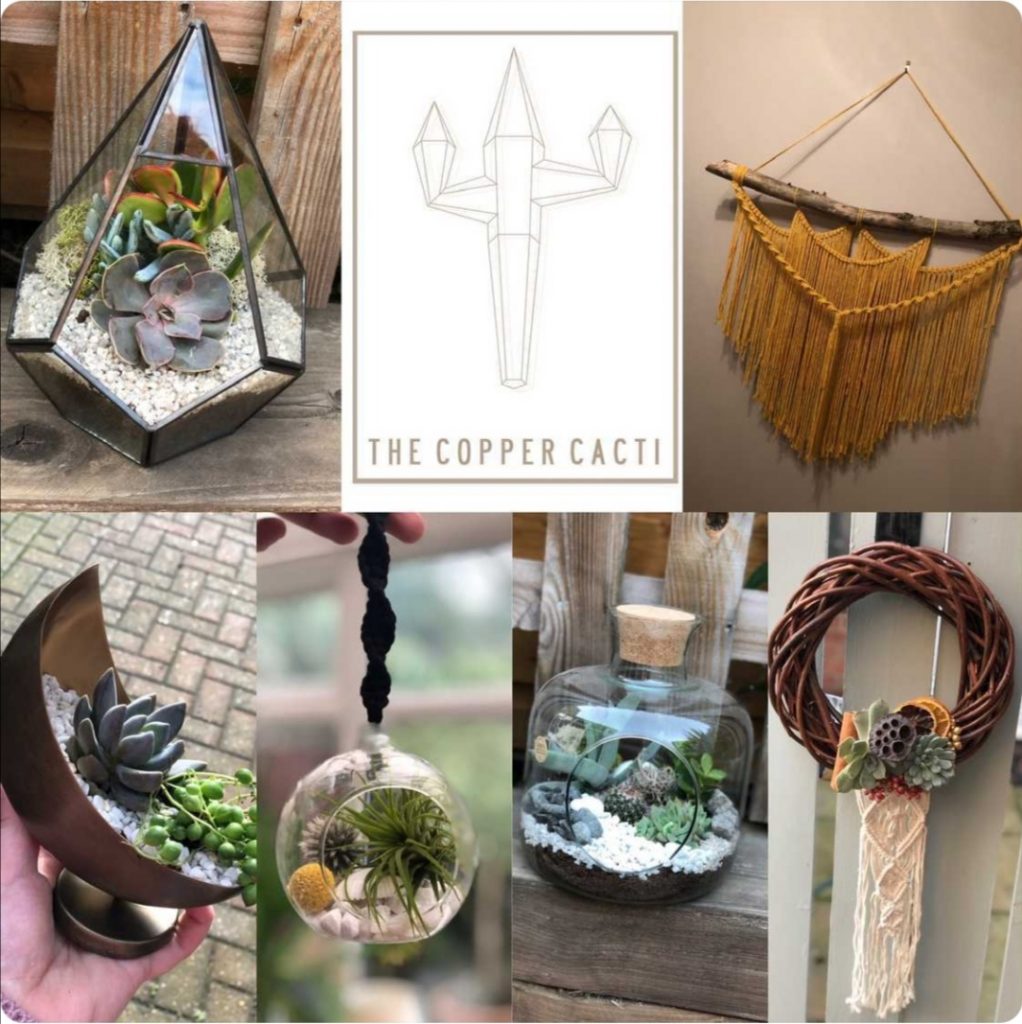 One of my favourite recent discoveries, which now features on my own Christmas list (yes, I still write a list, and what?) is The Copper Cacti. Based in Chelmsford, Essex this little cove of loveliness creates all sorts of Plant Based home décor and has found lots of quirky ways to display plants. From Terrariums, to Macramé plant hangers and Kokodama. I had to Google that last one so I'll save you the trouble, it's a handmade sphere made from natural coconut fibres, in which you plant, you guessed it, plants! Awesome!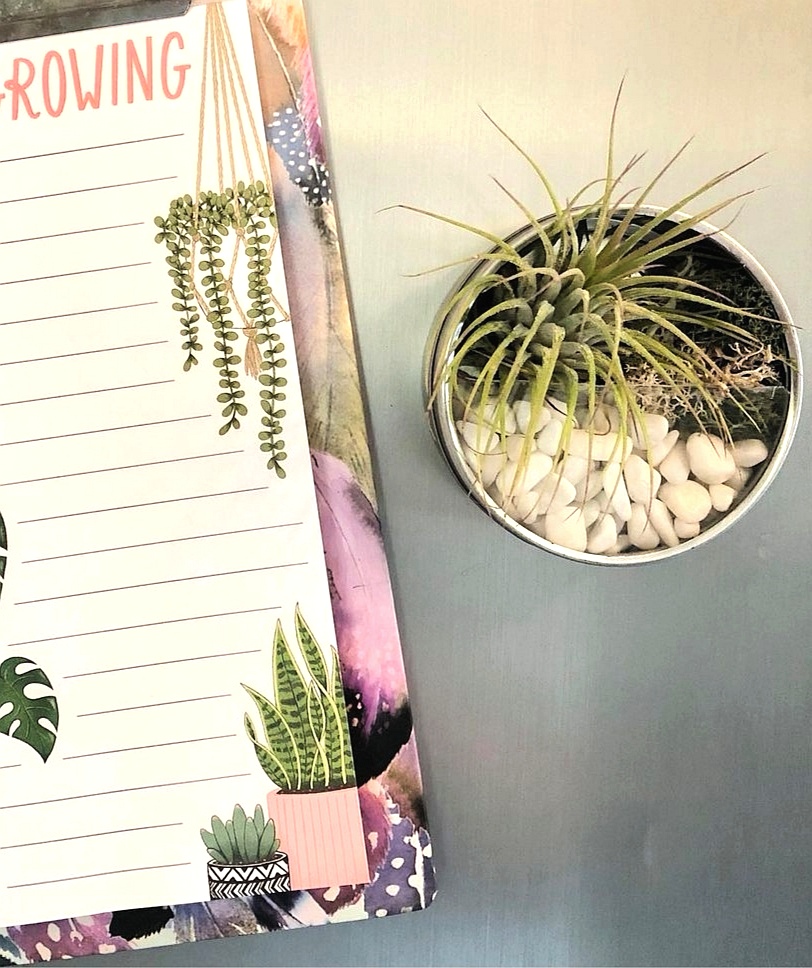 These would make an awesome gift for anyone (and me! – hoping my husband reads this post) and they are super affordable. Just look at this cute little fridge magnet. LOVE IT!
You can find The Copper Cacti and support their small business on Instagram or Facebook @thecoppercacti. Or head straight over to the website www.thecoppercacti.co.uk to grab yourself that fridge magnet. And then send it to me.
I bring you not 1 amazing gift but two, perfectly paired.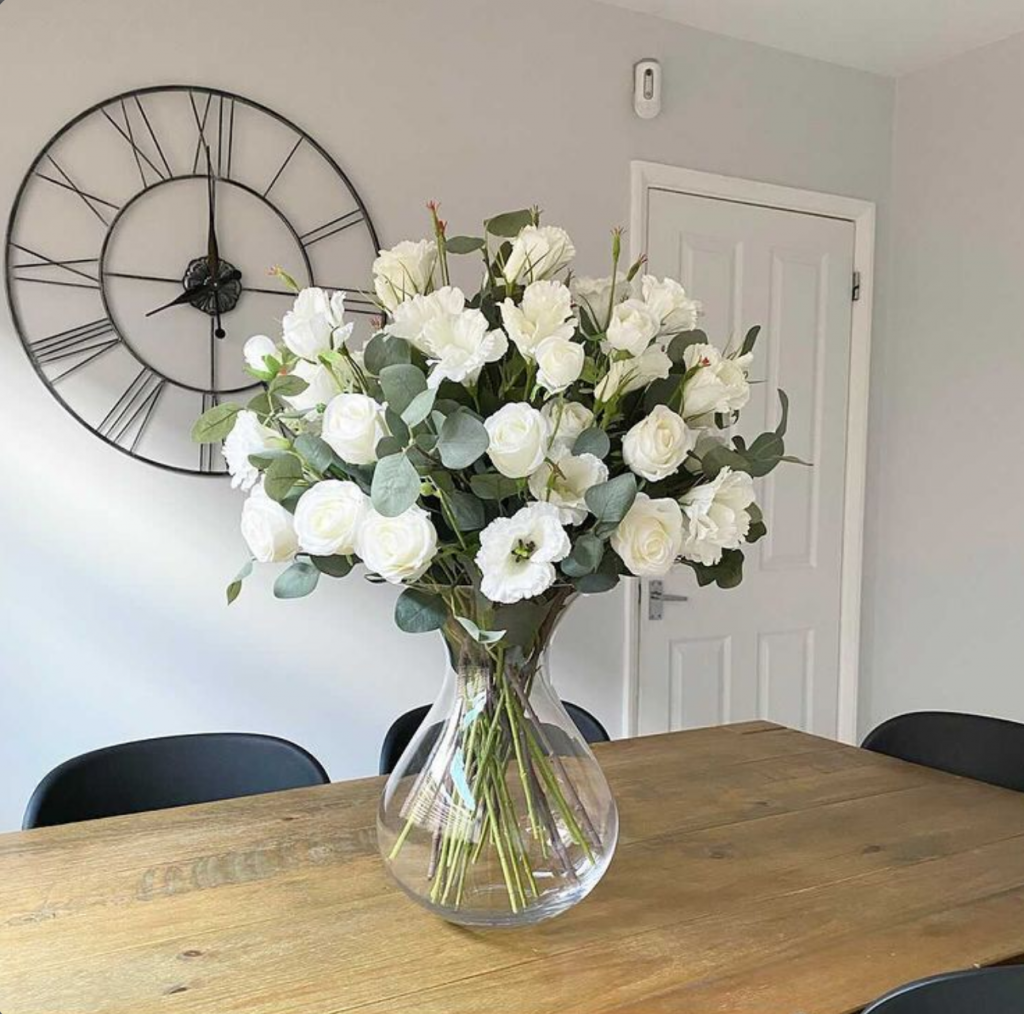 I've been eyeing up these gorgeous blooms for a while now and every new display is more breath taking than the last. These flowers look so real but the real beauty behind them is simply that they are not. Real, that is. And so they become the gift that keeps on giving. A perfectly arranged luxurious bouquet that will brighten up your home for years to come.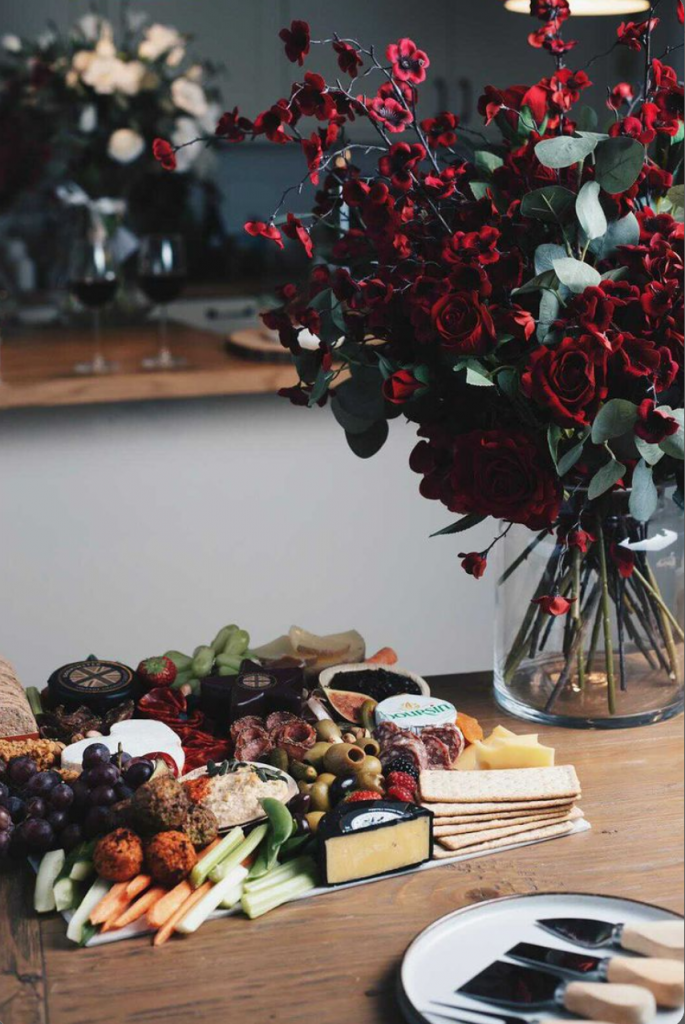 And have you seen these gourmet food boxes from the Gourmet Graze Guy?! They look INCRED-EDIBLE. Sorry, I couldn't resist. There's a box to suit every appetite from full on banquet to a luxury lunch for 1.
And now these two beauties have teamed up to give you the perfect Christmas gift of lavish food and flowers. That's a winning combo!
So if you're looking for something a little more special than the usual Christmas hamper, look no further.
…will also appeal to you flower lovers and even those with slightly less green fingers, with their Christmas Wreath making Workshops. I've actually attended one of these myself and can proudly say my wreath turned out ?
During the first lockdown they expanded their offerings and partnered up with another great local supplier. Now they are providing all sorts of yummy treats including some fabulous gifts.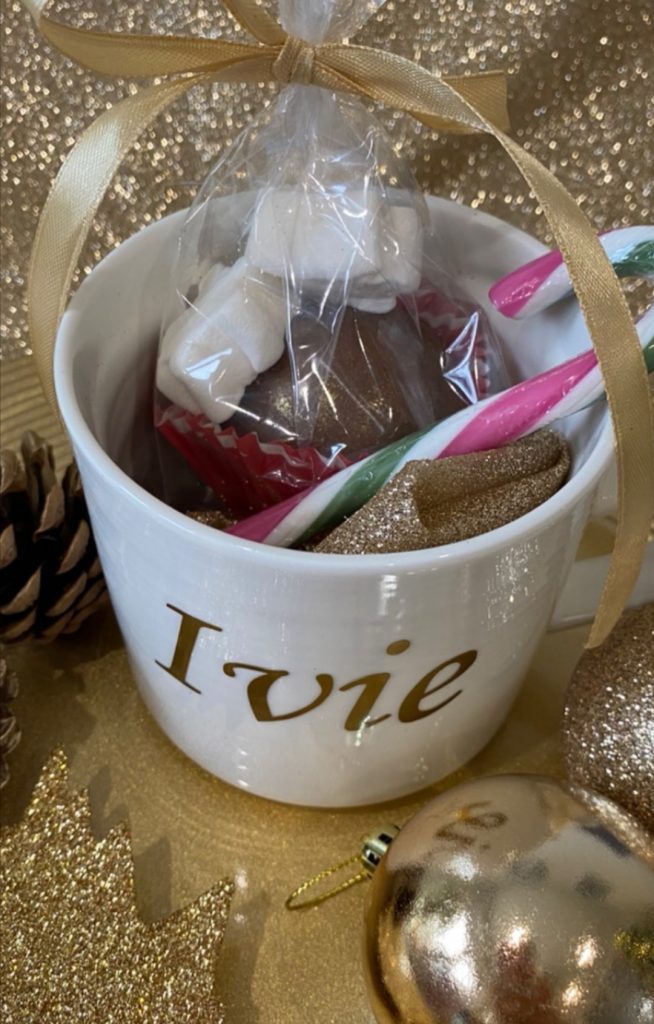 Their decorative biscuit boxes are simply too beautiful to munch, and this hot chocolate bomb in a personalised mug will bring a smile to anyone's face. And tummy!
Share some love over on Facebook or Instagram @greenroseevents
Christmas wouldn't be Christmas (at least in my house) without a little festive tipple and
have got a great selection of homemade artisan gin, vodka, rum & whisky liqueurs for delivery.
There's a tipple to suit everyone, from craft beer to glittery pink vodka! There's also cocktail kits, crackers and advent calendars. Want to know more? Head over to their Facebook Page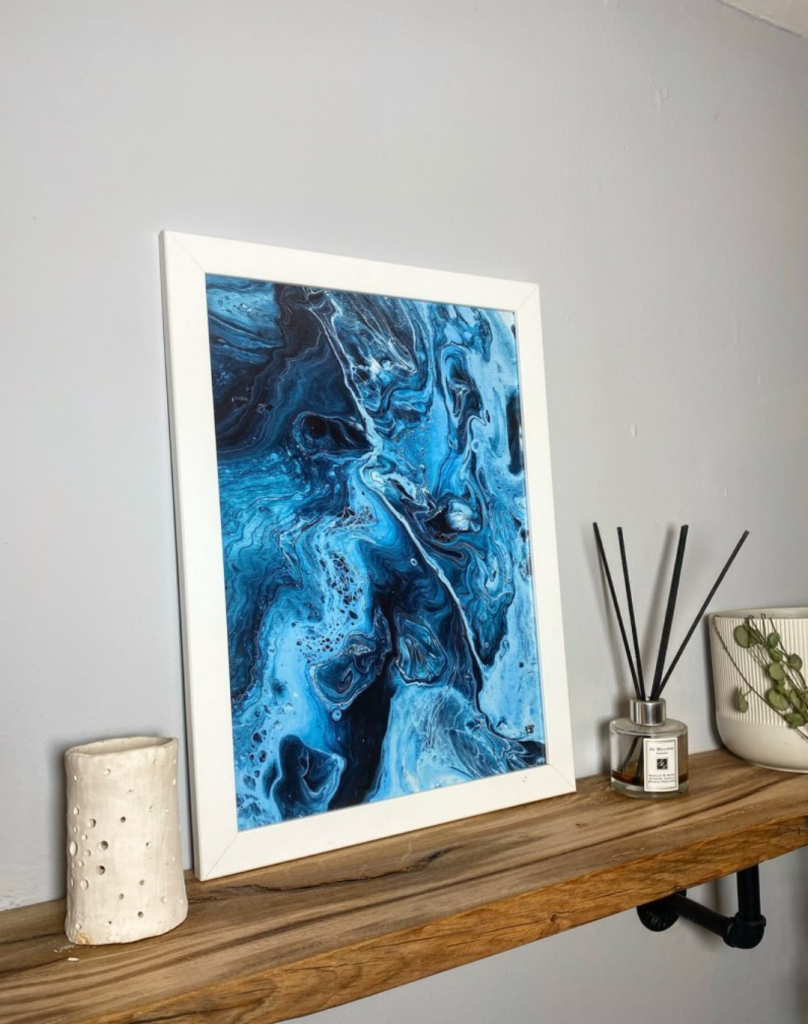 I came across Francesca's work recently and had one of those 'oooh' & 'ahhhh' moments. Francesca Bleay creates abstract paintings that seek a deliberate tension between chaos and control. They draw you in and each time you look, you see and feel something different. These prints are so beautiful they would make an excellent gift and Francesca is currently running a 30% off promotion so I urge you to take a look at her art work and find the perfect one for you.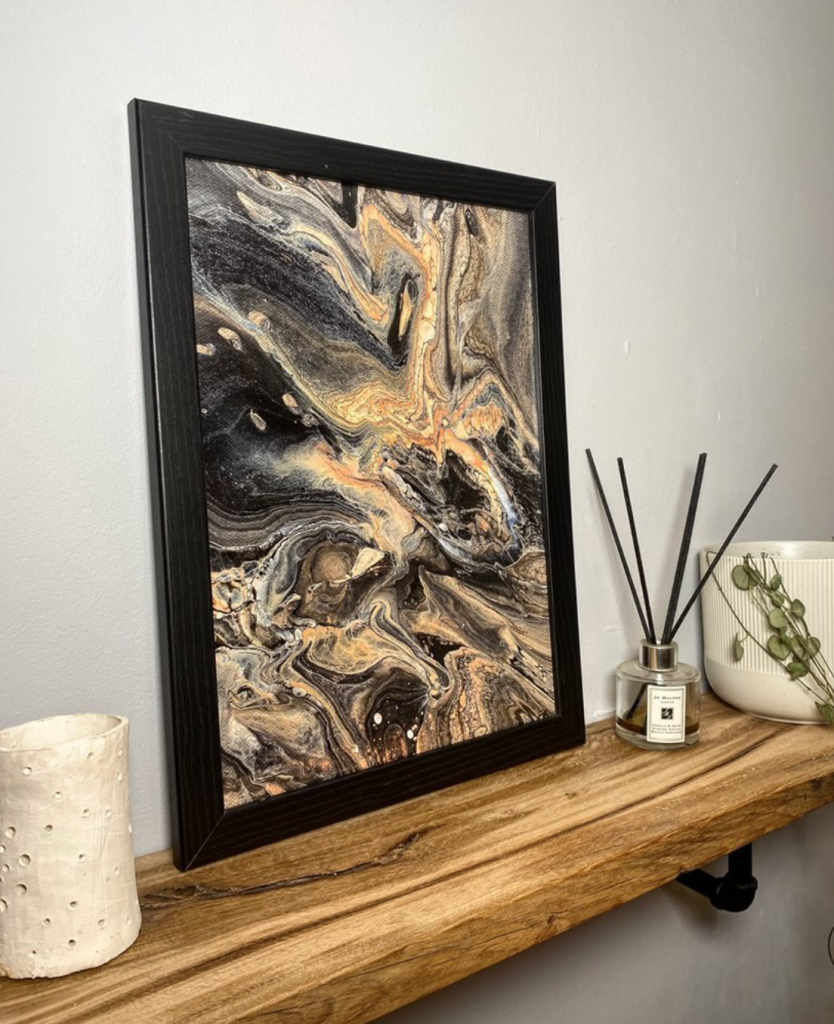 We all love a candle, am I right?
Which makes them the perfect gift for those people who are hard to buy for. There are lots of candle out there, in all different shapes and sizes but have you ever seen a nude candle? That's right, nude. Go and check out In The Nude Co, you will not be disappointed.
And it gets better….
Not only have they created these simply stunning nude figure candles, that ooze opulence but they have made them from natural soy. Making them completely vegan and cruelty free **pops one in her shopping basket**. Wait, it gets better – they are hand poured in Essex (which is where I am from in case you didn't know). So that ticks the shopping local button **adds another to basket** and then if that wasn't already good enough, for every purchase made…
In The Nude Co, we ? you! I need say no more….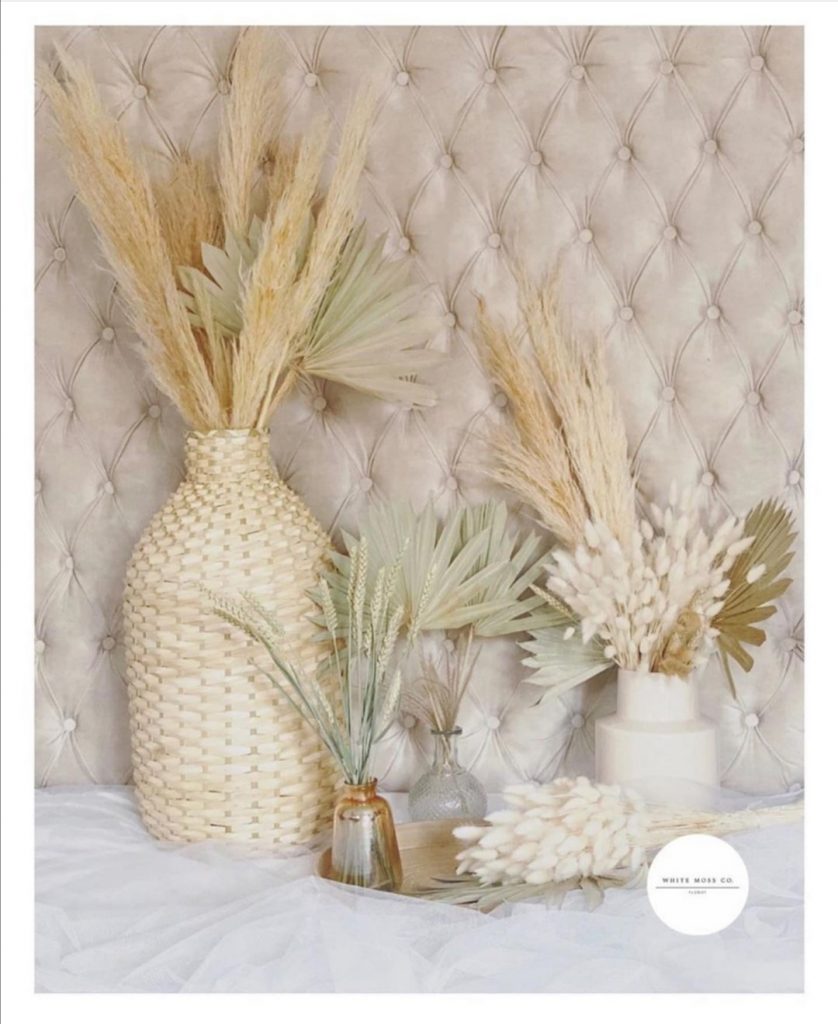 If you're looking to go full out with Christmas Spirit this year, then pop over to White Moss Co who not only make gorgeous dried flower displays and other beautiful gifts but have brought out all the stops this year to offer you stunning Christmas door wreaths and garlands Like this beauty below! Warning, may lead to jealous neighbours.
View more at @whitemossco_ on Instagram
And finally, a shameless plug for my own small business.
The Perfect Gift for Her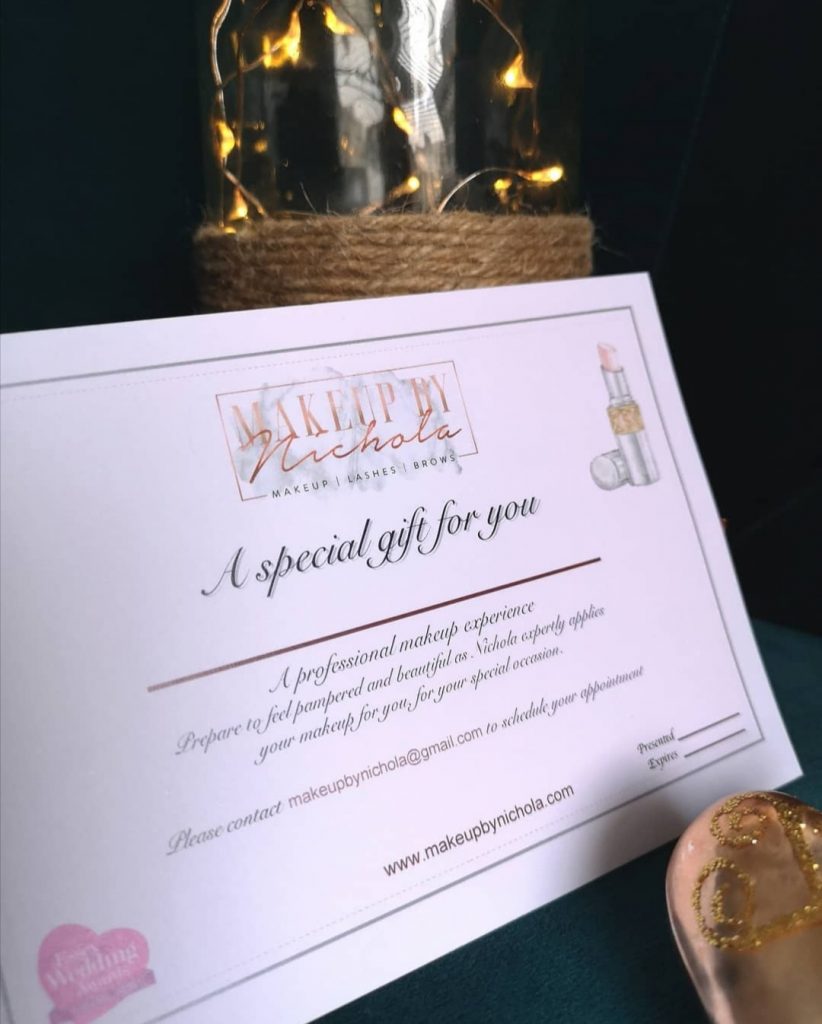 Why not treat someone to a makeup lesson or makeover. If you know there is a special event coming up, why not treat her to a makeover to make it extra special. Or for the gift that keeps on giving, a makeup lesson, so she can continue that special feeling forever. Gift Vouchers are available to purchase for lessons, make overs or in denominations of £10 or £20 which can be redeemed against any service.
Last minute gift buyers? I got you.
Gift Vouchers are available to purchase up to 10pm on Christmas Eve. Phew!
---
Thank you for reading this small business Christmas gift guide. I hope you found it useful. And please know that anything you purchase from a small business this year will not only put a silly smile on their face, but it may even save their business. Then you can officially call yourself The Shopper That Saved Christmas.
Thank You!
To all the small business out there, and to all you gift buying elves, may you have a truly Joyful Christmas and a ridiculously prosperous New Year! Cheers!