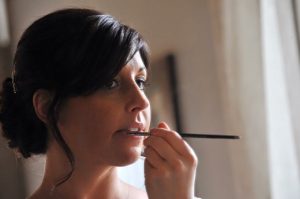 A trial of your wedding makeup is recommended at least 6 weeks before your wedding date to discuss your specific needs, to go through the look you want to achieve, answer any questions and decide on products and colours to use on the day.  This means on your wedding day both you and Nichola will know exactly how you are going to look – it is one less thing for you to have to think about on the wedding morning!
A trial can last as long as necessary but it is normally recommended that you set aside about 2 hours. Once the look is decided upon your products and colours are noted on a face chart and a photo taken for Nichola's file.
Trials are held at De Luca Beauty Salon, in Brentwood, Essex.  If you would prefer your trial to take place elsewhere, please contact Nichola.